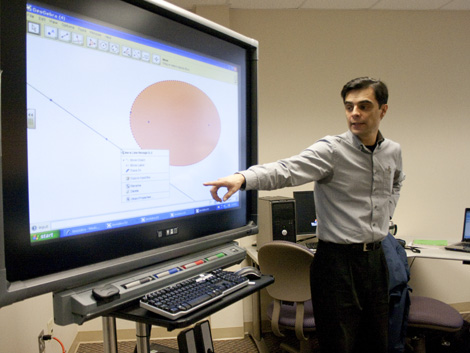 Imagine students entering a usual classroom that looks like any other classroom in the world, except that it has a video screen and a projection device installed. Today they are having a guest lecturer, a famous person from the Fortune 500 list. What is unusual about this lecture is that the students are in the USA while the lecturer is in Estonia. What makes this experience possible is modern technology, namely video conferencing.
Here, at Vanderbilt University, faculty members are using modern technology to help their students master all kinds of subjects, beginning from elementary to such complex subjects as bioengineering. As they are getting more and more involved into technology, they are finding it raises the quality of education and improves student progress.
So, what kind of technology do they use in teaching? They use video conferencing to invite guest speakers from other cities and countries; also they incorporate video and audio technologies into their lectures. They encourage students to prepare multi-media presentations using internet resources, such as video, audio, clips, etc. They organize e-conferences, and maintain thematic libraries. Some faculty members develop technology-based teaching materials and curriculum.
In general, they say that incorporating modern technology into learning process helps make it easier for students. Sometimes, when there is no perfect teaching material in print, professors place lecture notes on the internet. It not only helps students better understand the subject, but also saves time as they do not have to copy formulas from the board.
If you have a paper to check for plagiarism, use one of plagiarism checker online services available on the web.
At the same time, members of the faculty emphasize that it is important to use technology for a clear purpose, not just technology for the sake of technology. Also, use of computers helps professors reduce the passivity factor in their classrooms: students type things, they click, and it all makes the classroom environment more lively.
As educators are finding out about the usefulness of technology in classroom, they are using it more. On some disciplines it is demanded that students complete at least on project completely online. Some professors use CD assignments for pre-class learning — it helps them save time in the classroom.
Meanwhile, technology brings not only benefits but also challenges. One of them is that teachers need additional time to incorporate technology into their classes. Another is that any technology can fail and it is not always possible to restore the information lost. Also, in modern world technology changes very quickly and it takes time and money to adapt to it.
Sometimes, having computers in the classroom distracts students from the class. They distract easily and surf the internet, send emails, do whatever else — instead of listening to the lecturer or looking through the lecture slides.